18 December 2009, writed by David
category: it's hot
It's hot, #3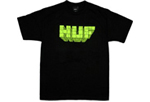 It's hot is the list you wanna read before your week-end. The list is full of stuffs we loved during the week.
Here is our shoot #3:
MTN Event x Willie Toledo.
From Toy to King, by Sebastian Thieme.
Star Wars x Adidas Lookbook.
HUF, Bricks Black Tee.
Bang Your Ed sweat (limited to 100, wordwide).
Quicksilver Tony Hawk Show (and his 900°).
SEVER (Loss Prevention) for Agenda.
Maestro knows, Mr Cartoon (Episode2).
[HOT] Hellfire x Dizzizit Dboy Tee.
Aaron Bondaroff: My Life in Tshirts (Autobiography).
Ruby x SongeBob (limited to 200 pieces).
Free Carhartt Music at FUSShop.
Futura video interview (at Defrag)
Tapestry Trainers (by Emma Sulzer).

David, See Ya! - iloveyourtshirt x Play-Doh.
---
---