30 September 2009, writed by David
category: tshirt
Three Hearts Club A.k.a The Hash Crew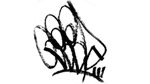 Three Hearts Club (a.k.a. The Hash Crew) is prominent and influential graffiti crew from Chicago that was formed in the early 90's.
The crew is known for it's ability to mix classic graffiti style with a looser, more abstract visual language. The crew has a diverse membership of not only graffiti artist, but also fine artist, graphic artist and musicians.
For this first run of t-shirts, 46 designs were submitted by various crew members and 5 were chosen to print.
The shirts are available at bopzink and select midwest retailers.
You can follow The Hash Crew with their facebook, blog and flickr.

David, See Ya! - iloveyourtshirt x Play-Doh.
---
---