27 October 2009, writed by David
category: contest
Coontak Contest: lucha libre tshirt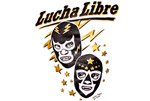 You can win the Lucha Libre tshirt produced by our friends at Coontak.
The question is: what's the name of the t-shirt worn by the brown guitarist in the COONTAK's clip? Send me your best answer with our contact form (in the bottom of the page), the first good one, win.
Coontak is an alternative sportsweat, their tshirts designs are made by: Nikibi, Fox Nathan, Mc Bess, Kim Cuypi, Moby, Deesk, Marcello crescenzi, Daniel Johanson and Kôki Tanaguchi:
You can follow Coontak with their blog and myspace.

David, See Ya! - iloveyourtshirt x Play-Doh.
---
---