24 June 2010, writed by David
category: tshirt
KC Ortiz Capsule Collection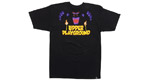 KC Ortiz is one of the most engaging photographers we've seen, a member of the Chicago based art collective 'We Are Supervision' and also the designer behind four new t-shirts that Upper Playground is releasing.
While his photographic style documents stark, personal and eye opening accounts of the far reaching corners of this world, when it comes to design KC Ortiz generally takes a much more light hearted approach and aims to make fundamentally simple, "weird, funky stuff."
And this line of tees is just that. All four t-shirts are available at Upper Playground retail locations and online at the Upper Playground web store.

David, See Ya! - iloveyourtshirt x Play-Doh.
---
---