21 August 2009, writed by David
category: contest
The Final Four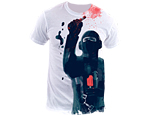 Design By Human's 10K design contest is finishing up (Umibozu just missed the cut), there are still four fantastic designs battling it out for the top prize. The contest ends August 23rd.
SOS strawberry flavor by gloopz depicts a man on a mission, taking a moment to enjoy an icy treat even as he flags down some help. Layer upon layer of texture kick the style of this tee up a notch.
CollisionTheory is last year's champ, looking to make this contest a repeat performance. His unique use of perspective and gorgeous color shifts bring freshness to the nature tee genre in Twilight Rain.
In his design Journey to the City of No Horizon, TangYauHoong imagines a world where the sky never ends, seamlessly transitioning into a river that cuts through the cityscape. Architecture has never looked this good!
Csj89 looked to his heritage to come up with the subject of his tee, Mecha-Labaw. It's a complex, stylized take on the Carabao, a national symbol of the Philippines. The huge print and intricate details are jaw-dropping.

David, See Ya! - iloveyourtshirt x Play-Doh.
---
---