21 January 2010, writed by David
category: tshirt
Lowdtown Friends & Freaks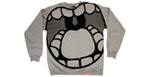 Lowdtown Friends & Freaks released their Winter line. For the Winter release there are two crewnecks, one t-shirt, and a leather wallet.
Ray, Lowdtown Friends & Freaks:
"I realize that it's nothing major, but I feel like it's a good segue into what's to come. Lowdtown is sure to progress in the year to come, and I felt like this release was a little taste of how I want to expand past just t-shirts and more into a lifestyle brand (sweaters, hoodies, fitted hats, cut and sew, accessories, toys, etc.)."
You can follow Lowdtown Friends & Freaks with their blog.

David, See Ya! - iloveyourtshirt x Play-Doh.
---
---