05 August 2009, writed by David
category: Sneaker
The new Pastry collection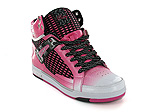 Designed by Vanessa and Angela Simmons - daughters of hip hop legend Joseph 'Rev Run' Simmons and stars of hit MTV show Run's House, the recipe for Pastry's success is a delicious mix of the coolest ingredients that have been mixed up to create a unique and delicious collection .
High glamour, full on colour and a relaxed urban vibe make these the tastiest footwear treats on the high street.
The latest range, delivered just in time to tempt fashionista's back to school, has more temptation than ever.
The 'Candy Lace' mid courts, which combines lace, check and bold patent overlays, is an utterly unique sneaker that will set you apart from the crowd, whilst 'Flap Jack' blends bold colours, mesh and patent to serve up an original piece of fashion forward style iced with the distinctive Pastry logo.
Available at the Foot Locker bakery on August 16th.
You can also check out their Website.

David, See Ya! - iloveyourtshirt x Play-Doh.
---
---