14 January 2010, writed by David
category: event
Too Hip to be Square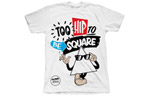 Following on from the success of September 09's pop-up shop, Roktic return to East Gallery with a new concept store representing independent and underground streetwear labels from around the world!
The event will focus around the release of a limited edition exclusive print and t-shirt collaboration between Oh Death, Little Art book and Roktic to celebrate Roktic's 1st Year Anniversary.
Prints and artwork by The Prodigy, Ded, RYCA, Rugman, The Krah, Static, Dscreet, Stik, Adam Hemuss and a few others will be available, as well as The UK Vinyl Toy Expo "The Joy Of Toy" who will feature a collection of toys for sale.
The dates: 8th January to 28th January 2010, 11am > 7pm, Mon > Sun.
You can follow Roktic with their facebook.

David, See Ya! - iloveyourtshirt x Play-Doh.
---
---