12 August 2009, writed by David
category: tshirt
You Make me Sick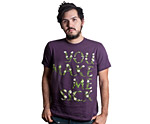 You Make Me Sick, a floral tee for he & she, is a new tshirt created by Rob Barber for randr tees.
You Make Me Sick is available in Lemon and Eggplant and, this week, his price is only 13Bucks!
You can follow randr with their blog, twitter, facebook, MySpace and Flickr!

David, See Ya! - iloveyourtshirt x Play-Doh.
---
---