09 September 2010, writed by David
category: tshirt
Vaughn de Heart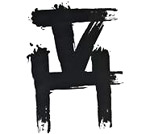 RoyLyn, Vaughn de Heart "I decided to create the brand Vaughn de Heart after my senior year of College. During my senior year I made a shirt for a fraternity I was president of, this college was in Washington State.
Then a year later I was walking around a mall in Southern California wearing the shirt I had made and I ran into a guy who was wearing the same shirt.
This guy had nothing to do with the fraternity and had bought my shirt from a thrift store. The odds for he and myself to be wearing the same shirt that I had created the one and only day we would pass by each other was too much. After that I decided to start my brand."
You can follow Vaughn de Heart with their twitter and facebook.

David, See Ya! - iloveyourtshirt x Play-Doh.
---
---