03 September 2009, writed by David
category: tshirt
Mashmarket mini F/W collection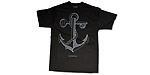 Mashmarket is a small independent operation in Helsinki, Fineland and they just finished their first Fall/Winter mini collection.
Niko, Mashmarket:
"We now offer also small collection of quality printed tshirts under our own Mashmarket brand. This season mini collection, entitled as the nonconformists, features our love for track bikes, egypt, sailors and pure rebellion. All items are shipped free, worldwide."
You can follow Mashmarket with their twitter and facebook.

David, See Ya! - iloveyourtshirt x Play-Doh.
---
---