19 May 2010, writed by David
category: tshirt
Woot woot! new arrival at Urban industry!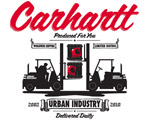 Carhartt x Urban Industry collab t-shirt, Designed by Rob Trigg here in the UK. Limited to a 50 print run on Carhartt block t-shirts.
Urban Industry x HELLOMATT 3-Pack t-shirt collection. 3 brand new prints exclusively for Urban Industry designed by Matt Howarth, who presently works at ILOVEDUST agency. Cool, heritage, work wear inspired designs, again limited to 50 of each.
Urban Industry London to Brighton Charity Bike ride t-shirt. A small team from Urban Industry are riding the annual London to Brighton Bike ride in aid of the British Heart Foundation Charity. Daniel King have designed a t-shirt based on the classic Kraftwerk cover for their Tour De France track.
Only 50 printed once again and all profits from all the t-shirts sold will be given to the charity by Urban Industry.
You can follow Urban Industry with their blog, facebook and twitter.

David, See Ya! - iloveyourtshirt x Play-Doh.
---
---