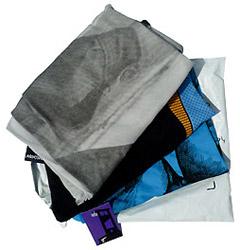 Je viens de recevoir 3 t-shirts, The Prowler turquoise, Road trip white et Wargame, de la part de Quentin (le fondateur de Monsieur T.).
Le tshirt The Prowler turquoise, (quelques très chouettes détails sont imprimés en all over, comme une partie des moustaches ainsi que le haut du corps du tigre sur le col):
Le tshirt Road trip white, (j'adore déjà l'impression du motif en all over):
Et enfin le tshirt Wargame:
La petite étiquette sur la manche droite est un chouette détail:
L'impression mate est impeccable, pas trop épaisse et bien impreignée dans les fibres du tshirt:
Les étiquettes personnalisée sont cousues et très bien intégrées dans le col. Par contre on ne retrouve aucune indiquation sur l'origine du tshirt (ce sont des AA).
J'adore vraiment le passage des impressions sur les coutures:
A l'arrière du tshirt on retrouve la signature de Monsieur T. et celle du photographe Jon Humphries :
Dommage que pour le tshirt Wargame les couleurs ne soient pas plus flashy :-(
Un grand merci à Quentin, je connais sa marque maintenant depuis plusieures années et la qualité de ses productions est constante. Tant dans le choix des motifs qui sont toujours très originaux - il se démarque vraiment - que dans la qualité des tshirts et de l'impression.
You can find all of this at Monsieur T. onsale - follow Monsieur T. on twitter and facebook

David, See Ya! - iloveyourtshirt x Play-Doh.
---
---