13 August 2009, writed by David
category: tshirt
410BC new collection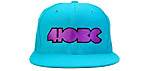 410 BC, an artist collective turned independent, design-driven brand, has just released a fall collection.
This collection includes a number of tee shirts which feature a wide range of designs. The tees offered are of high quality, organic and sweatshop free materials.
In addition to tee shirts, this collection includes other pieces such as a cardigan, a crew neck sweater, a button down shirt, and a jacket. Also being released by 410 BC is a line of five new skateboard decks.
Nicole, 410BC:
"For our upcoming line, we wanted to do things a bit differently. Keep it clean and simple and classic. What we stand for as a brand is expressed through our designs. We kept this at the forefront of our minds with this line.
In August, it will be our two year anniversary as a collective/brand. We're growing and coming into a more sustainable design ethic."
410 BC is an independent, design-driven brand offering high quality, sweatshop free clothing and goods released in limited quantities. Based out of New York, 410 BC is both a clothing company and an artist collective.
Collaborating with a variety of artists, 410 BC stands as a collective of likeminded individuals who strive to create unique designs, while producing goods through ethical means.
The goal of 410 BC is not only to produce products free of sweatshop labor, but also to design innovative clothing free from passing trends. 410 BC has commissioned and designed clothing drawing influence from a wide range of subcultures including skateboarding, punk, hip-hop, indie and diy.
More than a clothing company, 410 BC is a lifestyle brand combining art, fashion, music, and conscious consumerism. By working with a variety of artists, 410 BC is able to showcase and promote talented individuals of our generation and give back to the community. By blurring the lines between fashion and art, 410 BC is able to produce genuinely unique clothing.
410 BC not only promotes ethical consumerism by using sweatshop free materials and printing methods, but a percentage of selected shirts donate proceeds to non-profit organizations.
410 BC is the date that Democracy was restored in Athens. The Athenians were at war and their victory in 410 BC enabled them to restore their traditional institutions. They had a choice and they chose the route less taken, maybe the choice was a little bumpier, but overall, the end result was a lot better than any alternative.
At its core, this is what 410 BC as a company truly represents, a choice. While creating sweatshop free quality clothing, 410 BC strives to design clothing with integrity.
You can follow 410BC with their blog, myspace, facebook, Flickr! and YouTube.

David, See Ya! - iloveyourtshirt x Play-Doh.
---
---