18 May 2010, writed by David
category: tshirt
New Secret Stash!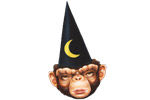 Formula Werks began in 2003 as a limited edition, artist-series clothing company and artist collective based out of Chicago, USA, which is now a larger part of the Scumbag Nation collective, both founded by Escape76 (Angry Face) and friends, curated and directed by he and artist Joey Potts.
Early on, it was priority to do both limited edition series and custom projects where people were allowed to choose their own colors for certain designs. Starting in 2009, the majority of the Formula Werks brand began focusing on dynamic, "custom-built" (or Build Your Own) artist series streetwear on its main website.
As the Build Your Own project has grown to take over Formula Werks, the decision was made in 2010 to have all of Formula Werks be a custom project, and move the entirety of its limited edition apparel to a new brand, Ways & Means.
The new releases shown here are the last of the limited edition, premium releases under the Formula Werks name before this class of artist series apparel is moved to Ways & Means.
The final premium range gathers five artists from the Formula Werks/Scumbag Nation crew across the globe: Jim Mahfood (LA), Jim Koch (Washington State), Ken Keirns (Bay Area), The Tree House Press (UK), and founder Angry Face (Chicago).
These products are released in what we call a "Secret Stash" meaning they are only available on a separate pop-up website for one month.. After that, they are gone forever. All items are available for men (in regular fit, slim fit, short- and long-sleeve) and women (short- and long-sleeve), and are printed with water-based, eco-friendly inks.
After 7 years of being featured under one brand name on its website, at select retailers, in galleries, and in countless magazines, Formula Werks will continue solely as a custom-apparel brand where the public can create their own custom colors of designs.
Ways & Means will strictly be premium, limited edition apparel available on its website and few select retailers across the globe.
Both of these brands, as well as our kids line, Workshop Kids, will fall under the Scumbag Nation / Workshop umbrella. This entire project remains 100% independent, run by the curators and directors who founded the brands. As soon as the Secret Stash ends, the change is in place. Our motto, however, remains: Stay Hungry, Grind Hard…

Secret Stash Pop-Up Shop (all apparel shown here, only available through the end of May 2010).

David, See Ya! - iloveyourtshirt x Play-Doh.
---
---