15 July 2010, writed by David
category: tshirt
Anti-Eco, an irreverent Tee + Tote Collection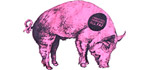 Their belief at Anti-eco is that humor, smart design and quality are the most effective tools to combat ignorance and make a statement regarding the cultivation and conservation of our planet's resources. (granted, inappropriately).
Matthew Schechter, from the Anti-Eco Team:
"Many of us aspire to live an 'eco-chic' lifestyle, but often fall short. Anti-eco exposes our imperfections and makes us laugh at the sometimes blatant hypocrisy in which we find ourselves…
Contrary to our designs, we are committed to creating a sustainable product and will let you know when we are not being 'green'!
One more thing… a percentage of each anti-eco item purchased will be donated to the clean-up and preservation of wildlife in the gulf oil spill. We will update you as to how your donations will be spent.
Anti-eco is here to salvage our planet, one t(r)ee at a time…"
You can follow Anti-Eco with their twitter and facebook.

David, See Ya! - iloveyourtshirt x Play-Doh.
---
---