12 November 2009, writed by David
category: tshirt
Bad Girl Candy by Cottonmouth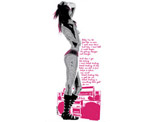 The good old Pin-ups are the basis for this limited collection (from Cottonmouth), consisting a pullover (Heavenly Hot), a t-dress (Makes it all better) and a t-shirt (Sexual Healing).
The shirts 'Heavenly Hot' and 'Makes it all better' are designed in cooperation with artist Thijs Bierlaagh.
He designed the clothing for his highly rated graduation project at the Media College Amsterdam. Pin-ups from the 50's & 60's in the mix with the contemporary T-shirt culture.
The t-shirt 'Sexual Healing' is therefore a fitting addition. The look and feel of 2009/2010, the flashback to the 80's in support with the lyrics of Mr. Marvin Gaye - Sexual Healing, for what we got personal approval.
All of this combined in their familiar pop-art style can be summarized as Bad Candy Girl! You can follow CottonMouth with their twitter.
Your coupon code  is: HAPPYFALL (10% Off your order, until 11.21).

David, See Ya! - iloveyourtshirt x Play-Doh.
---
---