13 January 2010, writed by David
category: tshirt
Camilla D'errico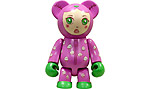 Camilla d'Errico is an Italo-Canadian artist from Vancouver who has been making waves in the fine art and comic industries with her manga-influenced style. Despite having amassed a wide artistic background in animation, fine arts, illustration and graphic design her passion is comic art, notably manga.
The collection available at at Camilla d'Errico's website is made up of images from Camilla's self-published manga, Tanpopo. The manga is loosely based on Goethe's Faust, and the image you see here is the most iconic image. Tanpopo strikes a deal with the devil to be released from the machine and to experience life.
Although Camilla is best known for her pseudo-steampunk style, mainly her Helmetgirls images, she has explored the 'antler' theme in recent designs. There are two in this collection - Deer God's Coma  and Venissen Lick.
The idea behind the clothing line was to go beyond just tshirts and get into dress tshirts for the ladies, scarves, hats and of course hoodies. Camilla adores bright colors, and this is reflected in the collection.
The gradient colors have been a big hit, and she love the elegance of the gold on black, which can go from casual to dressy in a flash.
You can follow Camilla with his blog, myspace, behance, devianart, twitter and facebook.

David, See Ya! - iloveyourtshirt x Play-Doh.
---
---