05 August 2009, writed by David
category: tshirt
Against the Waves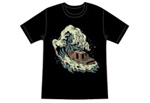 The winner of Springleap bi weekly t-shirt competition is Cmatos from Brazil with her magical tee design 'Against the Waves' which seems to capture the moment of the perfect wave.
The design is described, by Cmatos, as:
"Man against the power of nature. The power of nature within the man. When next I have seen the sea will the sea have seen me, he pondered."
Check out the camilia-Matos's flickr and twitter and also the springleap's twitter and facebook.

David, See Ya! - iloveyourtshirt x Play-Doh.
---
---