07 August 2009, writed by David
category: tshirt
Concrete Hermit x Tate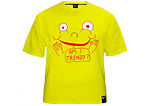 Since the 25th July, East London Gallery Concrete Hermit steps onto a bigger stage after being asked to supply a range of exclusive T-shirts and screen-prints for the Tate Modern.
In a move that demonstrates the Tate's interest and commitment to breakthrough illustration, work by three Concrete Hermit artists has been commissioned and will form part of the 'Tate Modern Series'.
Chris Knight,  Concrete Hermit Gallery:
"We were approached by the product development team at Tate Modern who wanted to showcase the type of work we've been doing through our shirts and books at Concrete Hermit. It's a fantastic opportunity for us to bring the work of these artists to a wider audience.
Hopefully the project will reward the Tate's willingness to engage with contemporary illustration and design and be the first of many collaborations".

Anthony Burrill, Ian Stevenson and Andrew Rae will all produce work, artists who have collaborated with Concrete Hermit before, whose different and remarkable styles exist somewhere between graphic design, art and illustration.

Burrill's bold, trademark technique for direct communication has seen him produce work for a diverse and exciting list of clients, including design campaigns for Nike and PlayStation, artwork for Kraftwork and Air, murals for Bloomberg and more recently an identity for Kessel Kramer's inaugural London base – KK outlet. Producing moving image, print and interactive design, Burill achieves a consistency of style across all mediums that is uncomplicated, intelligent and often humorous.

The weird and intoxicating world of Ian Stevenson spills over pages and walls, taking his distorted characters over the insides of Selfridges, T-Shirts, MTV screens and movie sets. Influenced by the everyday strangeness of people, Stevenson's striking originality and unique vision has found a resonance with his many admirers, selling first book ('The Shut Up Man') out in weeks, confirming Stevenson as an artist to be watched and Concrete Hermit's initial steps into publishing, a success.
Andrew Rae is an illustrator, art director and member of the Illustration collective Peepshow. The characters that fill so much of his work exude an extraordinary personality, an influence that could be felt on satirical animation series 'Monkey Dust', for which Rae was Art Director. From humble beginnings producing flyers for 333 in Shoreditch, Rae has gone on to work for clients worldwide and become a name that is admired and respected in the animation world.

Conceived and directed by Chris Knight in 2004, Concrete Hermit started as a platform to promote underground artists, selling T-Shirts and books online.
In 2007 the Gallery and shop in East London opened and since then has always given its artists freedom to experiment with structure and installation, to expand on their work and experiment with new formats.
A testament to Knight's eye for exceptional design and illustration, this latest commission from the Tate Modern is exciting and deserved recognition for the platform he has created and the artists he has supported.

David, See Ya! - iloveyourtshirt x Play-Doh.
---
---