19 January 2010, writed by David
category: tshirt
Pyrotechnic Display at Celebrations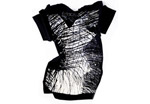 P.D.A.C, (Pyrotechnic Display at Celebrations) creates t-shirt designs based off of light, especially fireworks (ergo the name).
Amber, P.D.A.C:
"Light has always been really fascinating, the way it forms negative space, questions figure/ground relationships, and has such beautiful form. Fireworks, flashlights, sparklers, even fluorescent lighting, it changes the way we view things, what we can and cannot see.
The beautiful part is photographing light then deconstructing it to see the wonderful, exclusive designs that can be extracted from it. It is also wonderful to see the shapes of the shadows the light casts as well.
The birth of P.D.A.C was a pile of photographs: pictures of lens-flare, fireworks, and flashlights in motion, and the desire to isolate the shape the light created. Our designs are about expressing and sharing the shape of light, pushing the figure/ground composition and admiring light's beauty.
Each shirt is an interpretation of distinctive firework forms and other various shapes from exceptional light."
You can follow P.D.A.C with their facebook.

David, See Ya! - iloveyourtshirt x Play-Doh.
---
---