15 October 2012, writed by Yar
category: tshirt
Craig Watkins: T-Shirt Designer - Graphic Designer - Illustrator Interview
Craig Watkins has been a freelance illustrator since 1999. Working with a diverse range of clients like Disney, Billabong, DreamWorks and Urban Outfitters has enabled him to hone his skills and develop a portfolio of work that most anyone would enjoy.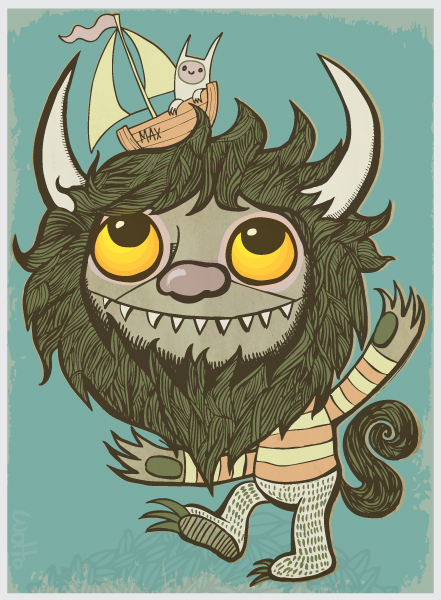 He paints, doodles and draws the world just as he sees it. Craig likes to develop characters with a strong narrative and then drags them kicking and screaming into darkness.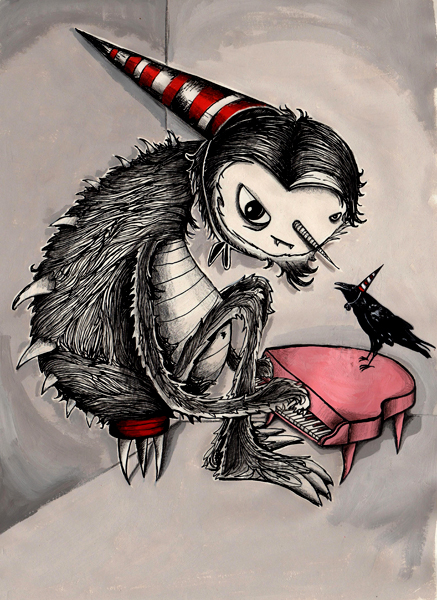 Watkins uses traditional materials and digital packages to create his art. Craig is currently the Creative Director at DesignByHumans.com by day and a freelance machine during the night. 'No rest for the wicked' is his motto.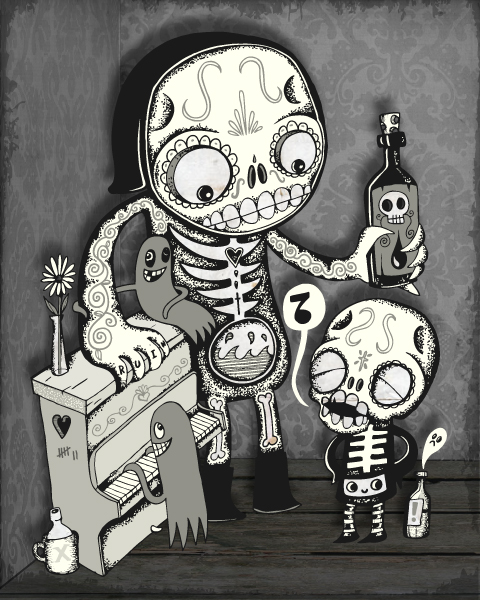 Craig was kind enough to answer some questions we had for him. Here's what he had to say...
When did you start creating art?
When I was a little kid I had a baby sitter who was good at drawing and I sat for hours drawing with her. She was pretty vile but I was inspired to be a better drawer than her, hundreds of thousands of hours later I think I am now.
Was there a point when you began to take art more seriously?
When I was 12 or 13 a local dance school commissioned me to design a character for their T-shirts. This was the first time I thought "Hey I could make a living out of this". I learned a harsh lesson, firstly they never paid me and secondly they still print that same tee today.

Where did your nickname, or "nome de plume" come from?
The name 'wotto' was given to me by my super talented and very good friend Woody when I lived with him in London. One day he called me 'wotto' and it just stuck. He also designed the first wotto logo I used on artwork.
How would you best describe your style?
Doodly, dark and cute, controlled mess...
At what age did you develop this style?
I always drew characters as a kid, Mickey Mouse, Garfield etc and I think that was good practice. Once I got bored of that I started drawing my own characters and over time a style developed. I still feel my style is developing but I also know my style is recognizable now, that was something I always wanted.
Who or what are your artistic influences?
I have been influenced a lot over the years and not all of them were artists, some are friends or experiences. I studied a lot of European artists work early in my education and then I moved onto Modern Artists in my university years. Once out of education I was attracted to the street scene and that changed everything for me. Now I am influenced by other illustrators and T-shirt designers. Influences are weird, I kinda like how they creep into your work almost without you knowing.

When did you start designing t-shirts?
2007. I was designing stuff for more commercial markets at the time and I was getting pretty bored. I stumbled upon a contest site and decided it would be a good outlet for me. I entered and won pretty quickly. Then I went on a 4 year T-shirt designing frenzy. I won at most contest sites and attracted the attention from apparel labels like Billabong.
Do you look at this type of art as business or just a hobby?
Both. It's not what I do full time but when you win regularly you can make some decent cash. The key is to market your winning designs so the company you win with get good sales and you gather a loyal following. T-shirts are a good way to experiment with styles and ideas but if you can consistently knock out cool designs it can be rewarding financially. Note to newcomers: It takes years.
Do you have any business experience?
Not really, nothing to yell about. I have sold my own work and goods with success and I negotiate deals with clients all day but business is a complex beast. An interesting beast that I am learning more and more about all the time.
What motivates you in life?
To provide for my family and leave my mark on this grubby world. I like it when someone takes the time to say "Hey I like your art".
Are you single, married, or have a significant other?
Married with a very small baby who is extremely cool. My wife and I met through T-shirts and between us we have enough to start a t-shirt empire.
Do you have a preference for screen printing or DTG (Direct-To-Garment) printing?
DTG is becoming impressive technology. I recently saw some machines that both delivered with colors and quality. However, for now at least I prefer screen printed goods. I work alongside a screen printers and I love to be there, smelling the ink and watching the process unfold. It's a very interesting process with many small stages that require skill and a keen eye.
Mac vs. PC?
Mac.

Favorite clothing brand?
I like many but I wear mostly Design By Humans tees these days. I also wear jeans from Europe because I like the fit, G-star Raw.

Do you engage in physical activity (work out, yoga, martial arts)?
Not as much as I should. I walk a great deal, lately around my house to soothe my baby but I have always loved walking. I also love mountain biking but I haven't had a bike since moving to the USA.
Are you a fan of any sports?
I watch soccer or football as us Brits call it.
Do you cook?
I can but I don't. My wife is an amazing cook and should have made it her career.
Are you a vegetarian or vegan?

I was vegetarian for 1 year as a teenager but bacon got the better of me.
What languages do you speak?

English and some French.
Who are your favorite music artists?

This changes a lot but currently I am listening to Paulo Nutini, Kings Of Leon and Young and the Giant.
Do you have any favorite TV shows?
Breaking Bad, Southland, Walking Dead and SpongeBob Square Pants
What is your preferred method of transportation (motorcycles, bicycle, car, walk)?
Walking but here in L.A you have to drive.
What brands/models of cars do you like?
Volkswagen and Porsche (The vintage ones)
Do you produce art in any other mediums?
I use illustrator, paint, ink and pencil mostly.
If you watch or listen to the news, from what source(s)?
The news freaks me out. American news just seems to want to scare the shit out of you. I read stuff online but I am not a huge follower of the news. I don't really want to know what the latest celebrity is up to.
What movies do you enjoy most?
Dark ones. Not horrors but dark like Old Boy and Fight Club. I also love animated movies.
Do you have any favorite books, book series, or authors?
A Series of Unfortunate Events, anything by Roald Dahl and non-fiction about dangerous or crazy folks.
Do you prefer smart-phones or not-so-smart phones?
I have a smart phone and its useful but I don't have the addiction. Or maybe I am in denial?
Do you have any political stances (left, right, middle)?
Politics are ridiculous to me. Rich people buying votes and making decisions the general public don't want. I like the rise of people power since the internet appeared. People should decide what happens in their communities and cities. I am not into violence but I do love to see people stand up to the powers that be and say "no".

What is something that you hate or absolutely enrages you?
I get annoyed by a few things.
Almond Joy - nothing about it is Joyful.
Commercials - I never signed up for that brainwashing.
People who are rude - manners cost nothing.
That my cat always shits in the litter tray within 30 seconds of me cleaning it.
Needing a pooh when you come out of the shower.
People who tut.
People who make money from ripping off others or piggy backing on someone else's idea.
That kids today want to be famous for being famous instead of being astronauts.
Links:

FB: http://www.facebook.com/wottoartist
BLOG: http://wottotees.blogspot.com/
Twitter: http://www.twitter.com/wotto76

---
---