09 January 2010, writed by David
category: tshirt
Dead Bury Dead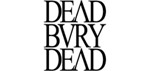 Dead Bury Dead started in 2005 in Pittsburgh, Pennsylvania USA.
Brandon, Dead Bury Dead:
"We are a family owned and operated business where we do everything in house. We do all of our own web development, design, screen printing, shipping, wholesale, and band merch tours.
We design a shirt from start to finish and it doesn't leave our hands until we ship it to our customers. We strive for quality control and want to ensure that our customers are getting a quality product. Every aspect of our brand is controlled by us, and that allows for us to have a much superior product.
Even though our name may reference death, our brand focuses on life and living each day to the fullest. We hope people will appreciate life and live for today by leaving the past in the past to focus on what lies ahead."
You can follow Dead Bury Dead with their twitter and facebook.

David, See Ya! - iloveyourtshirt x Play-Doh.
---
---