20 July 2009, writed by David
category: tshirt
One vs Many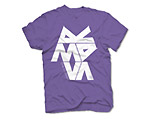 The concept behind One vs Many is the everyday struggle. People face hardships everyday of their lives, no matter how large or small. One vs Many represents the passion it takes to survive when everything around you seems to be going wrong.
Alex, One vs Man:
"We are about to kick off a project where people can submit and post their stories about when they were "one versus many".
That's why collaboration is a huge part of our model. We collaborate with freethinkers to create original clothing, art, and music. Collaboration breeds creativity and strength.
Our clothing designs are inspired by the passion of the artists that we work with - we tend to favor vibrant colors in our tshirts to capture that spirit".

David, See Ya! - iloveyourtshirt x Play-Doh.
---
---