22 September 2010, writed by David
category: tshirt
Eat this Jeremy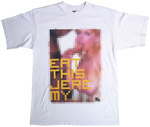 The pioneers of the sexual revolution, "John Lennon & Yoko Ono", topped with vanilla sauce, are the inspiration of NO ONO.
The driving force behind the Dutch t-shirt label for men, aren't people but fantasies, balancing between your conscience and feelings. NO ONO can no longer retain themself from visualising their fantasies and exhibiting them on t-shirts. You'll never understand them. You can only experience NO ONO.
The first collection of NO ONO "Uncensored", consisting of 3 t-shirts, makes clear how instantly the mind works. If your view the collection from a distance, the prints will appear as complete graphics. View the t-shirts upclose, you'll see that your mind played a trick with you, and that all prints are composed of squares. Special detail is that all its NO ONO (men) t-shirts on the website by putting sexy (hot) young ladies.
NO ONO sends his t-shirts worldwide at acceptable shipping costs. Payments are made easily and securely through PayPal.
We love this new brand, so, don't forget to follow them with their twitter,blog (hot!) and facebook.

David, See Ya! - iloveyourtshirt x Play-Doh.
---
---