04 March 2010, writed by David
category: tshirt
A tshirt made by Snoop Dogg and Upper Playground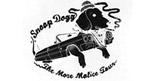 Upper Playground has produced a t-shirt in conjunction with Snoop Dogg to celebrate his arrival to their neighborhood for a concert at the historic Fillmore Auditorium.
Although Snoop has defined the music of a generation and has achieved iconic mainstream success, he has always been one to remain true to local and upcoming artistic movements, regardless of their discipline. So, on this tour Snoop has focused on playing smaller venues and working with local artists to create merchandise authentic to each of the tour cities.
For the San Francisco stop, Snoop has teamed up with Upper Playground and San Francisco based artist, Jeremy Fish, to create a t-shirt for Snoop's current tour in support of his upcoming record, "More Malice."
A limited number of tees was available at The Fillmore (1805 Geary Boulevard San Francisco, CA 94115) the night of the show, and down the street from The Fillmore at the Upper Playground San Francisco location (220 Fillmore Street San Francisco CA 94117).
The rest of the production of t-shirts will be available on the Upper Playground online store.

David, See Ya! - iloveyourtshirt x Play-Doh.
---
---