06 December 2009, writed by David
category: Sneaker
Exclusive Nike Air Max 90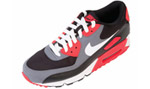 As one of the most iconic sneakers of all time, the Nike Air Max 90 is all about reinvention and revolution - always striving to be at the cutting edge of sneaker consciousness.
For Autumn/Winter 2009, Foot Locker and Nike Sportswear have taken this essence and created an exclusive edition of the Air Max 90 sneaker. The release of the shoe is backed by a unique digital campaign – 'Be the Revolution of you' – featuring some of Europe's best young football talent.


Inspired by the original Air Max 1, the Air Max 90 is instantly recognisable and iconic and has long been a favourite with sporting superstars and street-style aficionados. The latest re-styling for Foot Locker features the classic Nike Air cushioning and multi-flexing outsole, updated with a contemporary monochrome colour way, broken up with bright red colour blocking across the heel, toe and laces.

The 'Be The Revolution Of You' campaign launches on the 29th November on Foot Locker and is fronted by four of Europe's hottest football talents - Chelsea player John Obi Mikel in the UK, Hatem Ben Arfar from Olympic Marseille in France, Davide Santon from Inter Milan in Italy and Sergio Busquets from FC Barcelona in Spain - who will be seen reinventing themselves through the eyes of cutting edge local artists.
Each athlete will be captured in a portrait that explores the relationship between the player and Air Max 90, while drawing inspiration from their personal story to create a truly unique reinterpretation of their image.

Consumers will also have the opportunity to give themselves a remix by uploading their image and creating their own Air Max 90 artwork at Foot Locker. This can then be set as their mobile phone wallpaper, and anyone who brings their design into a Foot Locker store will be given an exclusive Air Max 90 poster.

The Nike Air Max 90 'Be The Revolution of You' campaign once again shows Foot Locker's commitment to staying on step ahead of the sneaker game, always offering the latest and greatest exclusive designs to those who want their feet to do their talking for them.
Good to know about the Nike Air Max 90:
Originally developed by Tinker Hatfield and Nike CEO Mark Parker in 1987, the Air Max 1 was the first shoe with a visible air unit, partly inspired by the Georges Pompidou Center in Paris, a modern building with large glass walls that allow the inside of the building to be seen.
The Air Max 90 had a 20% larger Air bag than the Air Max 1, so the window got larger and the shoe wider, characteristics that added weight. Hatfield compensated by designing an upper that used lighter materials. New mold techniques and eyelet technologies gave runners more options than they had ever experienced in a shoe before.
The addition of more plastic components, along with geometric blocking that shuffled colors from midsole to the upper, gave the shoe a faster look and called out the bigger Air bag. Hatfield also separated the midsole into front and back compartments to allow a range of performance and material options.
"The approach was to design products that worked really well," says Hatfield, "but also design products that stood out from everyone else and told a unique visual story."

David, See Ya! - iloveyourtshirt x Play-Doh.
---
---