16 September 2009, writed by David
category: tshirt
The Wizard Tattoo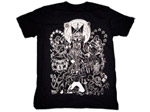 The Wizard Tattoo graphic features an ominously mystical magician casting smokey-sorcery of battle axes, panthers, horses of the apocalypse and more.
The color way is an off white ink on a black shirt body. Perfect black-metal scheme for shredder shows, Sabbath-listening, and seances alike! Only 30 of these super-soft shirts made, available at Beautiful/Decay.

David, See Ya! - iloveyourtshirt x Play-Doh.
---
---