11 May 2010, writed by David
category: tshirt
Le Grand Cru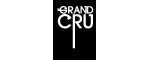 At Le Grand Cru, they believe that creativity comes from many different sources. Their design inspiration comes from the people they know, the music they hear, and the art they see & feel.
They strive to be a vehicle that bonds creativity together, amplifies it and shares it with everyone they can reach.
Le Grand Cru: "The Great Growth."
You can follow Le Grand Cru with their facebook, myspace, blog and twitter.

David, See Ya! - iloveyourtshirt x Play-Doh.
---
---