02 June 2010, writed by David
category: tshirt
More More More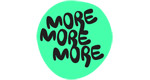 We just discovering this amazing new brand from sweden called More More More.
Mattias Forsberg, More More More:
"More More More was created from a strong and curious interest of clothes with nice prints. The goal is to get people to feel extra pretty and that they can do it with a broad smile.
We are driven to challenge the norm and create a personal style inspired by everything and everyone we love! A style that will continue to grow and gain inspiration from you as a customer, a huge source of inspiration for us.
Otherwise we get inspiration from everything, from tough old western guys with real macho mustaches to completely freaked out teenage kids from Japan. Inspiration exists in everything, you just have to keep your eyes open.
Behind More More More stands the creative entrepreneur and graphic designer Mattias Forsberg who makes the wheel spin with a lot of help from the really awesome photographer Ryan Garrison. Together with us you can spread the joy - and look really good while doing it!"
And of course, you can follow More More More with their facebook, twitter, vimeo and blog.

David, See Ya! - iloveyourtshirt x Play-Doh.
---
---