08 October 2009, writed by David
category: tshirt
Tshirt Pill Box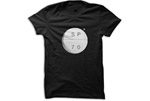 At Backsteetmerch they are producing a Spiritualized concept t-shirt pill box to coincide with the release of the bands seminal album, "Ladies and Gentlemen We are Floating in Space".
The box houses a pharmaceutical style blister pack, containing a compressed t-shirt, encased in a black box that mirrors the packaging of the anniversary re-release of this November.
You can follow Backstreet with their twitter and facebook.

David, See Ya! - iloveyourtshirt x Play-Doh.
---
---