21 August 2009, writed by David
category: tshirt
Meteor shower by Rethink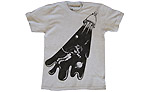 Meteor Shower is the new tshirt produced by Rethink. The tshirt is available in heater and purple with a printed size label on the inside (printed on AA).
Andy, Rethink Clohing:
"Outer space has and always will be fascinating and full of mystery. With the discovery of dark matter, black holes, new galaxies and a ton of cool stuff these mysteries are unraveled.
This shirt might also help unravel one more mystery, how astronauts (maybe some cosmonauts) stay clean in the final frontier."
You can follow Rethink clothing with their facebook.

David, See Ya! - iloveyourtshirt x Play-Doh.
---
---