02 September 2009, writed by David
category: tshirt
The Battleboys & Empire of Girls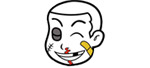 Dennis Limmer, The Battleboys & Empire of Girls:
"The Battleboys & Empire of Girls are lifestyle fashion brands that stem from my art & ardor. It was an endeavor that was a long time in the making, but was meant to be.
I have so much respect for all t-shirt & street wear brands and I believe in keeping this industry fresh, alive & evolving. The shirts belonging to my brands reach beyond the demographic and expand our high fashion street styles & culture.

Art & fashion have always been second nature to me. Through out my elementary to high-school years, I was creating my own comics, drawing urban characters, drawing superheroes, making trading cards and selling artwork to classmates.
I've always enjoyed wearing T-shirts with graphics of things I like and/or with cool slogans. Standing out was unintentional, but I always dressed different from the crowds and combined hip-hop, preppy and different eras of fashion into my own ensemble. Therefore, it was only natural to translate and express my vision and creativity into The Battleboys & Empire of Girls.
I grew up listening non-stop to hip hop & rap, even doing my own rapping & freestyling, reading comics, watching anime, playing basketball, playing video games, practicing martial arts, even playing board games, and Role-playing games. I was able to stay out of trouble by focusing on positive and productive activities. This was crucial in influencing The Battleboys.
In all of these scenarios and in life, my friends and I battled to be the best. We never pulled punches, never held back and always did so with good sportsmanship and respect. Competition is only natural and The Battleboys represent this drive, this ideal, that no matter what you do, you always give 200% in order to be the absolute best you can be.
The final ingredients to The Battleboys are my own personal struggles. Life in general was never easy for me; I've made many mistakes, made bad decisions and have even gone through life-altering medical conditions. It really makes you feel like life just can't help but beat you up, beat you down & kick your ass from time to time. It's like living life is a battle in itself.
This major factor convinced me that in order to get your dreams & to survive, you have to be willing to fight hard. And no matter how badly it seems you've been beaten, you need to keep smiling and fight back until you are victorious.
The bigger your dreams, the bigger the battle ahead.
Empire of Girls is equally as special to me as The Battleboys. Having practically all female family and relatives (until just recently) has forced me into having a strong feminine side and helped me to try and understand women better. Through women's studies, I've begun to understand about the hardships and inequalities women face.
My main focus in illustration has always been bringing to life beautiful women with exotic style. I want to translate the personas of the characters I create through Empire of Girls. Women who wear EOG should feel empowered and like urban princesses living adventures & fairy tales.
They are positive role models who are elegant, street sassy, classy and smart. EOG is designed so that women who wear it feel vibrant, attractive and glamorous. At the same time, they are also able to wear something that expresses their unique style and imagination allowing them to stand out from the rest.
Finally, with both The Battleboys & Empire of Girls, I'm creating a movement that uplifts people from all walks of life, especially urban & ethnic people. This is a way for me to give back to everyone. In light of this, I would like nothing more than to have our urban cultures accepted as a positive entity in society. My clothes promise to not only provide a mix of attitude & swag, but they will also expand your horizons and roar with a strong message for change.
The Battleboys & Empire of Girls will riot with upheaval and bring hope for a better tomorrow."
You can follow The Battleboys with their myspace (boys), myspace (girls), twitter and facebook.

David, See Ya! - iloveyourtshirt x Play-Doh.
---
---