09 October 2012, writed by Yar
category: tshirt
PASTE - Jason Laurits
Paste's graphic t-shirts, designed by artist Jason Laurits, are hand-silkscreened in Brooklyn, NYC. Artwork is printed on Made-in-the-USA, 100% cotton t-shirts that are enzyme-washed to battle shrinkage and to give a vintage-soft feel.

Through a digital medium, Laurits copies, cuts, and pastes over and over again to create the bold, whimsical, sometimes insightful, sometimes irreverent collages that Paste has become known for.
Laurits pulls from photographs of his own and ones found in the public domain, as well as old maps, vintage fabrics, family keepsakes, antique wallpaper, and anything else he can think of to get the perfect tee shirt image.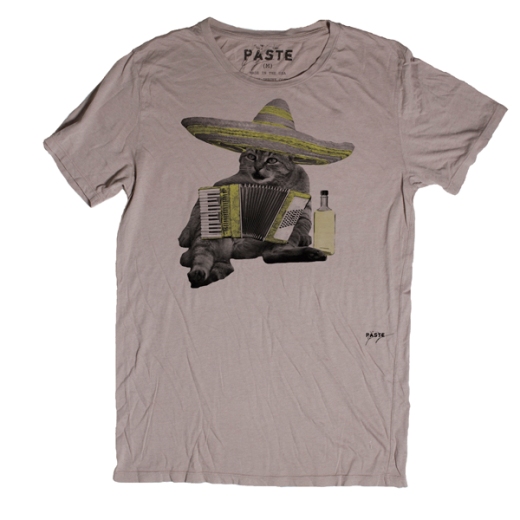 While pursuing a career in music in his early 20s, Jason Laurits taught himself how to silkscreen for posters to promote his shows around New York City. His music, a mixture of rock and electronica, eventually took him to London where, to help fund his recordings, he used silk-screening to create one-of-a-kind printed t-shirts and successfully sold them at random indie fashion markets.
Eventually deciding to take a break from music, Laurits returned to New York City and attended the New School for writing. During this time he continued to sell his printed t-shirts, slowly growing a fan base. By the time he finished school, the now-named Paste, had enough potential for Laurits to put all his energy into developing it further.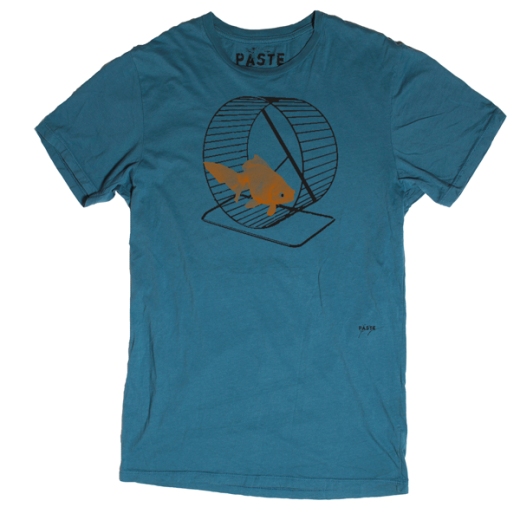 Laurits wanted to take Paste toward a different angle from the oversaturated graphic t-shirt market. Instead of silk-screening conceptual images or those that evoke cooler-than-thou motifs, Laurits wanted Paste t-shirts to have a little more fun and a lot more narrative to them. Because of this approach, Paste has not only been featured in prominent stores across the U.S., Canada, and Japan, but also as part of several art exhibitions in the U.S., Ireland, and Switzerland.
The t-shirts, themselves, are made in California with Laurits's own custom-colors, and are hand-silkscreened in Brooklyn. All graphics are designed by Laurits.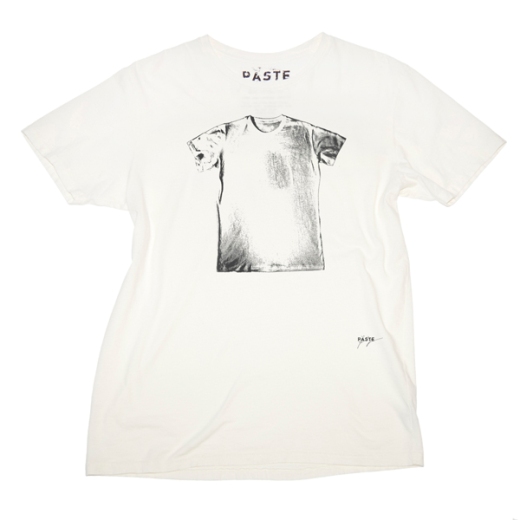 Paste t-shirts have also been featured various printed press including Antenna, US Weekly, InStyle (Germany), NY Press, MetroSource, and Viewpoint, as well as online on Thrillist, Refinery29, ILoveYourTshirt, Shirtspotting, and TCritic to name a few.
Here is our first interview we conducted with Jason Laurits:
Was there a point when you began to take art more seriously?
I'm not sure if I do now. It takes itself too seriously.
How would you best describe your style?
Whimsical, fun, yet critical. I remember reading an analysis of the Simpsons once years ago when it first came out, and how it can get away with any comment it wants on society, no matter how controversial, because it's a cartoon. That kind of stuck with me.
At what age did you develop this style?
I can't really pinpoint an age. My sense of it and love of humor and commentary evolved with age, and I guess the actual current look of these things came about within the last five years as I started designing tees.
Who or what are your artistic influences?
It started with SNL, Christopher Guest, John Waters and those sorts of things. I never really followed what was going on in the art world. I always think its best to get influences from other forms of art and translate it into yours. I don't like to look at other tees or graphics, or even fine art for that matter. Even if I try to do something original, those ideas of other people's have a way of seeping in unconsciously.

Do you look at this type of art as business or just a hobby?
It's definitely not a hobby, but I struggle with accepting the business part. I find myself getting caught up in the day-to-day aspects of running a business, answering emails, production, faxing shit, when I really want to be working creatively and working on new designs.
Do you have any business experience?
I do now. More than I ever cared to have. But as much as I hate it, and just want to be creative, I have always had a business sense. I was running my own yard sales while still in elementary school. I use to rent a table at a local flea market and sell candy that I bought at Sam's Club when I was in middle school. Just all on my own decision.

Have you ever been ripped off? If so, was it subtle or obvious?
Oh, god yes. Some subtle, some obvious. A customer of mine in Australia once sent me a t-shirt she found in a large department store in Australia that had my image on it but someone else's label, but with a bad resolution, as if they right-clicked and save the image right off my website. But the more subtle ones I think do not mean to copy you, they get inspired but don't do enough to make it their own. That's why I say don't be inspired by other people's stuff in your same form of expression. You'll always be one step behind. You should want to do something no one is doing.

Is there any particular design you are most proud of?
My t-shirt on a t-shirt. It was one of my first designs, and it's the only design I reprint over and over, sort of became my logo tee (or anti-logo tee, since I am not a fan of actual logo tees). It happened by complete accident. The picture of the tee was actually something I made as a template to try out different designs out on Photoshop, and one day I accidentally dragged it into another picture of a tee, and the lightbulb went off. I like it because it is just such a simple idea, nothing complex about it, but still interesting.


Is there a design that you didn't like, but received high acclaim?
Sure, there are a few, but I could never admit to which ones. There was one that I came so close to scrapping, I thought it was stupid and lazy in design, it had text which, as a visual person, is like over-explaining a joke to me. I ended up printing it, and it became one of my most popular ever. I haven't printed it in years, but I still get emails from people wanting to know where they could get their hands on one.
Do you have any formal training or schooling?
Film School and later a creative writing degree, which I guess in some way has helped, but nothing directly in what I am doing now.

Do you have a college degree?
Yes, but only technique and execution can be learned in college. The artistic/creative part comes from leaping head first into life's good and bad.

What motivates you in life?
Death, really. The big picture.
Where do you see yourself in two years?
Continuing to work with graphics, but perhaps in new areas, like home. The older I get, the less I care about clothes and more about home. It's weird.
Are you satisfied with where you are at this point in your career?
I should be, but I am not. And I think that's a good motivator. I am always trying to outdo myself. I don't really feel the need to compete with others, as much as with myself. But sometimes I stop and look back I think, so far, so good.

Are you a procrastinator?
No, I'm a list maker. I write everything there is to do in a day down at the beginning and just love crossing it off as I go. I have scrap pieces of paper all over the place with lists on it. It's a little disturbing.

Do you follow an orderly schedule?
Yes, I am one of those people.

Are there specific methods that increase your creativity?
Stepping away for a sec from a project helps. Think about it in another area and come back to it.
Are you single, married, or have a significant other?
Significant other. A very, very supportive and patient significant other who has a lifetime supply of t-shirts.
Do you have a preference for screen printing or DTG (Direct-To-Garment) printing?
Silkscreen, though I sublimate print my swim.
Mac vs. PC?
PC, I have not drank the Apple juice. I've been very stubborn about it.

Favorite clothing brand?
Shades of Greige, Nicholas K, Chirstopher Bailey, Salvation Army, my Dad's closet, Robert Bruce
Do you engage in physical activity (work out, yoga, martial arts)?
Yes, I mix it up a lot cause I get bored quick. At the very least, I ride my bike to work.
Are you a fan of any sports?
No

Do you cook?
I cook cereal.
Are you a vegetarian or vegan?
No
What languages do you speak?
American

Do you play any instruments?
Played sax for 10 years. Use to be a singer.
Who are your favorite music artists?
My taste in music was so much better 10-15 years ago. I am ashamed to say I listened to lot of crap these days.
Do you have any favorite TV shows?
SNL, Modern Family, Happy Endings, WipeOut, Downtown Abbey, MadMen, America's Funniest Home Videos, CBS Sunday Morning, and I somehow spend my Friday nights laughing my ass off at What Would You Do, it's brilliantly bad.
What is your preferred method of transportation (motorcycles, bicycle, car, walk)?
Subway, walking, biking, Zipcar
Do you produce art in any other mediums?
Working on that.
If you watch or listen to the news, from what source(s)?
NPR, ABC Nightly News, Dlisted
What movies do you enjoy most?
Documentaries and good comedies
Do you prefer smartphones or not-so-smart phones?
I have a smartphone, but I am always the last to get on aboard with these things. I had a beeper way much longer than I ever should have.

Do you have any political stances (left, right, middle)?
Middle left, registered Democrat. But both sides need to take it down a notch.
What is something that you hate or absolutely enrages you?
For the sake of your time and your soul, I will keep those floodgates closed.

---
---