27 August 2009, writed by David
category: tshirt
Electronic Sheep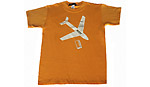 Electronic Sheep is an Irish designer label specialising in knitwear for men, women and children, combining the talents of best friends Brenda Aherne, a knitwear expert, and graphic designer Helen Delany.
Since growing up next door to one another, between them the pair have lived in London, New York, Munich, Rome and their hometown Dublin.
Despite being geographically separated, they have always collaborated on creative projects and set up the Electronic Sheep label in 1999, inspired by a question from Blade Runner : "Do Androids Dream of Electric Sheep?"
The Electronic Sheep comic, staring the eponymous Electronic Sheep along with Stork, Funny Valentine, Pandora and the rest is an image lead series of stories in which the main characters travel from city to city in electrical objects, creating art, music, film and chaos on the way:
All from the Electronic Sheep Comic series is made from 100% cotton, designed and made in Ireland. You can follow Elctronic Sheep with their myspace, facebook and youtube.

David, See Ya! - iloveyourtshirt x Play-Doh.
---
---