19 August 2009, writed by David
category: tshirt
Rest in Pieces by 2sickbastards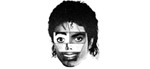 Rest In Pieces, by 2Sickbastards, is an update to the classic 2SB Misfit. The tshirt offers a typically twisted tribute to the King of Popsicles.
Rest in Pieces is available on Shotgun (download the 2SB catalogue AW09 - .pdf).
You can follow 2SB with their myspace and facebook

David, See Ya! - iloveyourtshirt x Play-Doh.
---
---