04 February 2010, writed by David
category: tshirt
The Quick Brown Fox Jumps Over the Lazy Dog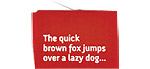 This t-shirt project is devoted to the beauty of type. The collection consists of t-shirts sampling essential typefaces.
Do you have a passion for graphic design? Then shout it out by wearing one of these t-shirts!
These t-shirts are 100 % cotton and 100 % quality. They are designed by the Lithuanian artists Martynas Birškys and Dalia Biršk?.
You can follow DADADA with their twitter and facebook.

David, See Ya! - iloveyourtshirt x Play-Doh.
---
---