08 October 2009, writed by David
category: tshirt
Tshirts by Elena Gallén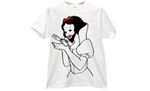 T-Shirts designed by young female artist Elena Gallén quickly garnered a cult among the fashion elite.
Everyone from fashion designer Giles Deacon to rock star Wendy James (Transvision Vamp), korean celebrity Tae Yang (Big Bang) or Tom Ford's new muse Amparo Bonmatí have been spotted in one of her pop-culture amalgam designs.
Versatile and self-taught, Gallen, has been acused of "transvesting" reality. Her provocative wit has awakened the curiosity of scene-kids, outsiders, fashionistas, bloggers and I-celebrities.
Combining the naïf, the odd and the minimalistic and inspired by trash culture, postmodernism, consumerism, independent movies and an unusual taste for monsters, ufos, blush, red lipstick, ligers, galaxies, horror films, transgression, mannequins, teenagers and nature, the character embodied by the artist has become outstanding beyond her creations.
Her two first collections "Freak Show" (2007) and "Luxury & Trash" (2008) are characterized for twisting popular imagery in a very subtle and appealing manner. The unfussy white tees are emblazoned with surprising images such as Double-headed Bambis, Tattooed octopus ladies, bearded Snowhites, Paris Hilton's famous Chihuahua Tinkerbell and most famously, a bloody-nosed Kate Moss.
Her work has been exhibited in Spain, Australia and South Korea and featured in Magazines such as Nylon, Vice, Glamcult and H Magazine; and her personal brand has stockists among the best fashion high-end boutiques (Barcelona, Bangkok, Madrid, Paris, Helsinki, Seoul, Naples, Torino, Hong Kong, Singapore...).
This is Elena Gallén and we love her. You can follow Elena Gallén with their facebook, twitter and myspace.

David, See Ya! - iloveyourtshirt x Play-Doh.
---
---