12 November 2012, writed by Yar
category: tshirt
Brian Luong: T-Shirt Designer - Graphic Designer - Illustrator Interview
Brian Luong is a t-shirt designer, graphic designer and illustrator currently residing in Southern California.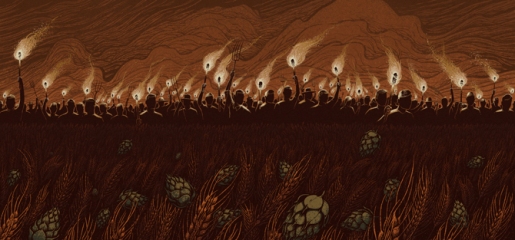 He favors natural and organic subject matters, often building upon what nature has to offer in order to create otherworldly and mysterious subjects for his work.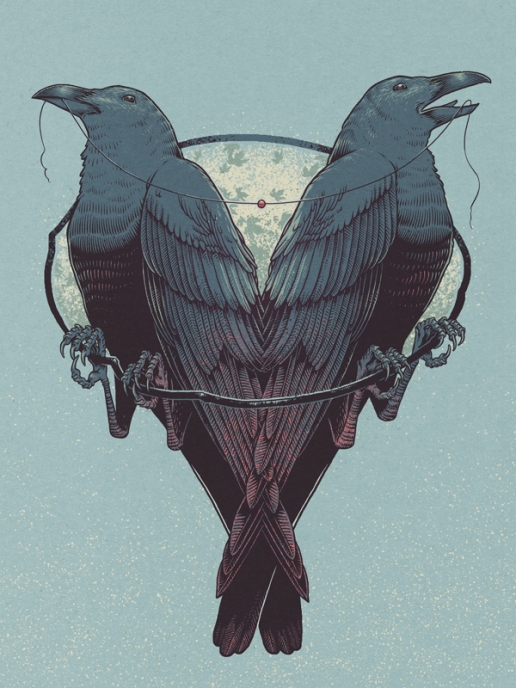 Using a muted pallet, meticulous hatching, and broad fills of color, Brian creates work that has been honed and refined to best suit the silkscreen printing process.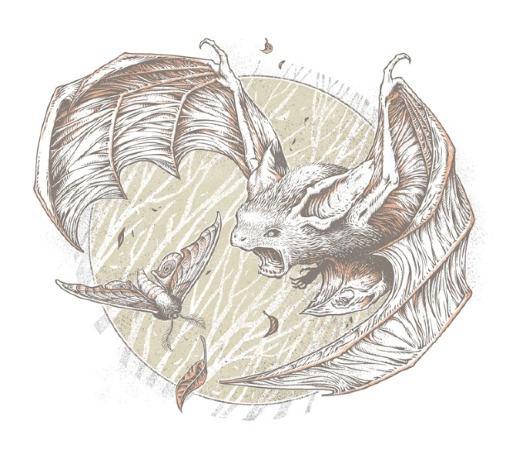 Brian was willing to share with us, some insight into his design and life styles.
Here's what he had to say...
When did you start creating art?
Ever since I was a wee little child!
Was there a point when you began to take art more seriously?
I started taking art more seriously around my Junior or Senior year of high school. It was around this time that I started looking at more art and subsequently decided to pursue a career in art/illustration.
How would you best describe your style?
Muted colors, organized hatching, intricate detail amongst simplicity, peppered with color and sporadic distressing.
At what age did you develop this style?
The style I work with now took on a defined shape when I was around 22.
Who or what are your artistic influences?
I look up to and admire several artists. Aaron Horkey's work has been a profound influence on my own work. Other favorites include João Ruas, Matthew Woodson, Audrey Kawasaki, Kevin Tong, Ken Taylor, Teagan White, and many more!
When did you start designing t-shirts?
About 3 years ago. I designed my first t-shirt for fun, viewing it as another way to apply my art. I showed off my design on a t-shirt design forum and the feedback I received was very positive, which encouraged me to design more and more shirt designs!
Do you look at this type of art as business or just a hobby?
Both! There are times when I treat it as business, and there are time when I treat it as a hobby. Sometimes it melds together so seamlessly that I can't tell if I'm treating it as business or a hobby. I tend to refer to my time drawing as "work" and when I tell my friends and family that I am busy "working", I am referring to drawing and doing art. In a way, I am always working!
Do you have any business experience?
A little bit here and there. I deal with clients every so often when I'm getting commissioned for illustration work, so I would say that I have some business experience.
What motivates you in life?
Self improvement is a big motivational factor for me. Being productive is also another factor. I feel bad if I'm sitting around doing nothing.
Do you have a preference for screen printing or DTG (Direct-To-Garment) printing?
I prefer screen printing over DTG printing. Direct-to-garment has its applications, but screen printing feels like it has a fine art quality to it.
Mac vs. PC?
I'm a PC user, but I've used Macs from time to time in the past. I don't have anything against Macs!
Do you engage in physical activity (work out, yoga, martial arts)?
Light exercising; lots of free weights, pull-ups, and push ups. Stuff that doesn't involve specialized machinery.
Are you a fan of any sports?
I'm not much of a sports person.
Do you cook?
A little bit, but not enough to call myself a cook. I'm more than willing to learn more about cooking, though!
Are you a vegetarian or vegan?
I order vegetarian meals from time to time, but I don't think I would enjoy being a full-time vegetarian or a vegan; I don't like having to restrict myself to what I can eat and what I can't eat.
What languages do you speak?
English. I understand a little bit of Vietnamese because I grew up speaking it with my family, but I can no longer speak it.
Do you play any instruments?
I play guitar and bass!
Who are your favorite music artists?
Minus the Bear, Circa Survive, Touche Amore, Parkway Drive, Hot Water Music, and many many more! I actually don't listen to a lot of different bands/artists, but I would say that my taste in music is broad.
Do you have any favorite TV shows?
Lately I've been watching the Game of Thrones. Other than that, I sparingly watch TV or TV shows.
What is your preferred method of transportation (motorcycles, bicycle, car, walk)?
Transportation by car is my preferred method of transportation! Walking is great, too.
What brands/models of cars do you like?
I don't focus too much on car brands or models. If the car is able to get me from point "A" to point "B" and back to point "A" while consuming a modest amount of gas, it's a good car in my book!
Do you produce art in any other mediums?
Besides producing art digitally, I use pen and ink from time to time. I sometimes work with acrylic paint, too.
What movies do you enjoy most?
Action and/or adventure movies and comedies. I tend to stay clear of horror movies... I can't handle them.
Do you have any favorite books, book series, or authors?
I enjoy reading books of the fantasy genre; books similar to The Lord of the Rings. I started reading the Game of Thrones series awhile back and have been reading it from time to time.
Do you prefer smart-phones or not-so-smart phones?
The phone I have right now is a not-so-smart phone, but it looks like a smart phone! Smart phones are really useful though, especially if you're looking for places to eat or if you're lost and need to look at a map.
What is something that you hate or absolutely enrages you?
A hefty trail of ants in the house. It doesn't happen often, but when it does it pisses me off a lot.
###

---
---