29 January 2010, writed by David
category: tshirt
New Leaf Collection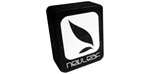 Conceived in 2004, New Leaf Collection was founded by artist Erik Otto as a separate platform that promoted his artwork and created a new medium that shared the philosophies he felt passionate about.
During his college years, Otto was helping out at a local screen print shop where he learned the art of textile printing. He later printed his first 3 designs, hand numbered each one and sold them at his following art show and not long after the company was born.
Shortly after it's inception, Otto quickly built a team who all shared the same love for art, design, and helping others. Homegrown and self-funded, New Leaf Collection planted its roots in San Francisco and has evolved into combining Otto's artistic vision with products inspired by the idea of giving back.
With a desire to make quality goods that serve a purpose, Otto places the idea of giving back at the forefront of his inspiration and remains committed to use New Leaf Collection as a vehicle to raise awareness for local and international charities.
Erik Otto is a painter, builder, designer and entrepreneur who's current home base lies in the sunny Mission District of San Francisco. Otto's personal work has been exhibited in galleries nationally and internationally and his design work commissioned by companies small and large.
He has built installations for theater production, store front windows, independent films, and was recently awarded the Artist in Residency position at Recology San Francisco where he spent 4 months creating a body of work and installation entirely out of recycled materials.
You can follow New Leaf Collection with their twitter, facebook and flickr.

David, See Ya! - iloveyourtshirt x Play-Doh.
---
---