07 June 2010, writed by David
category: tshirt
Work Clothes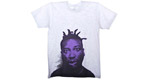 Work Clothes is based in Oakland, California along the Temescal creek. All of the artwork, printing and development is under the one roof.
Eric, Work Clothes:
"The designs vary greatly. You may find styles unusual but very palatable within Work's walls. A man carrying a whole life on his back. Chrome skate trucks you can wear. Warm photographic reproduction
of rural basketball hoops. A serious variety for dangerous and dapper work alike.
Work wants to bring an innocence and personality to art that sometimes gets lost on the way to professionalism.
Work started out as an artist book publisher and has sold out titles with independent bookstores across the US.
Some titles focused on a poem, about subtle nuances of life projected outwards while admiring
an ant hill, where another would wrap cinematic short stories of family and low brow with scientific findings charged with lithography all to settle the score.
It may seem small minded, but Work Clothes wants to be from the best the best. From Work to Worker. From us to you."
Work Clothes spreads sugar and spends time.
You can follow Work Clothes with their facebook and twitter.

David, See Ya! - iloveyourtshirt x Play-Doh.
---
---