15 March 2010, writed by David
category: tshirt
You're History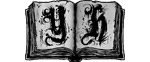 You're History is a t-shirt brand based in the South of England, established in 2009.
Simon, You're history:
"Noticing an open niche in the t-shirt market we decided that the historical figures we loved weren't really being explored in a t-shirt graphic sense and it kind of clicked that this is something we should do.
The name 'You're History' is a play on words but it also ties in with our designs in the way that the people are coming back from the past and look like they are jumping into the present.
What's awesome about our subject matter is that history has such a vast number of cool people, events and stories that as long as we keep it fresh and interesting that inspiration will never run out.
Currently we have 4 designs from heavy-hitter Godmachine and we are very excited about working with two more of our favourite designers; Craig Robson and Chris Lovell to produce something different, just in time for the Spring/Summer."
Storenvy printed the shirts and they are on American Apparel.
You can follow You're history with their twitter.

David, See Ya! - iloveyourtshirt x Play-Doh.
---
---