14 October 2009, writed by David
category: tshirt
Sluts, premium fashion & debauchery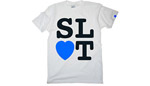 SLUTS humble beginnings are shrouded in mystery.
But legend has it that the brand was original conceived by a couple of West Cornwall likely lads who, whilst experimenting with new ways to meet girls discovered that parading around with the word slut on their t-shirts provided them with lots of attention and a perfect way to 'smash' the ice.
Their attempts were improved tenfold with both gentlemen getting a kiss each. Realising they were on to something, they set about refining the technique and with the theory that better t-shirts would produce better results, they hijacked the design skills of a friend and gave birth to the first ever SLUT clothing range.
The plan was working and along the way the lads had picked up some interest from fellow free thinkers all wanting to know where they could get their hands on these new found weapons.
After a season of swapping their clothing for drinks, cash and sexual favours at various bars and clubs they decided they had a pretty good business model, and it's a good idea to have a business you are passionate about!

Deciding it was time to stop shirking responsibilities but not quite ready for a real job they decided an online store was what was required.
They launched in 2005 and you can see the new look site, constantly fresh designs and other goings on...
You can follow Sluts with their bebo, twitter, myspace and facebook.

David, See Ya! - iloveyourtshirt x Play-Doh.
---
---