05 December 2009, writed by David
category: tshirt
55DSL x Adidas Originals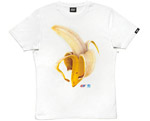 If you thought 55DSL and adidas Originals were going to stop with just a limited edition sneaker, then you've grossly underestimated their desire for maximum collaboration.
In addition to bringing you 15 years of awesomeness via the XV/55 limited edition sneaker, they are also introducing five super cool t-shirts with cutting edge graphics that will blow your mind!

David, See Ya! - iloveyourtshirt x Play-Doh.
---
---