12 October 2009, writed by David
category: tshirt
Arkaik Clothing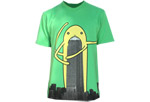 Arkaik Clothing was founded in 2007 when Jordan was 16 years old and tired of the "regular" shirts that company's were making.
Shirts had lost their quality and comfort, and Jordan founded Arkaik to try to change that as best he could.
Jordan, Arkaik Clothing:
"After nearly giving up on myself a year ago, I put a lot of time and work into re-vamping Arkaik before our Summer release. Since then we have had two releases which have gone amazingly well and truly defined us in both the United States and abroad".
You can follow Arkaik Clothing with their myspace, facebook and twitter.

David, See Ya! - iloveyourtshirt x Play-Doh.
---
---