04 August 2009, writed by David
category: tshirt
Dance Party Massacre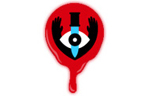 Some new tshirts are availble at Dance Party Massacre:
Alex, Dance Party Massacre:
"I'm really proud of what we've been putting out. We're continuing with the juxtaposition of horror and fun, trying to make something unique and interesting.
We're delving into themes like creature features, pop culture, and old horror movies. I'm also really glad we're doing other products like a sweatshirt, bandanas, and a necklace."
You can also folow Dance Party Massacre with their blog.

David, See Ya! - iloveyourtshirt x Play-Doh.
---
---