31 March 2010, writed by David
category: tshirt
Designkins: take care of them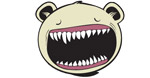 Kendall is the founder of DesignKins. He like to create art and what better way to share his art than to make it wearable.
So he have taken on this clothing brand of his life characters and have called them Kins.
You can follow Designkins with his twitter.

David, See Ya! - iloveyourtshirt x Play-Doh.
---
---