29 September 2009, writed by David
category: Sneaker
Adidas Vespa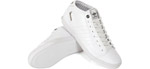 Foot Locker and international streetwear brand adidas Originals continue to celebrate originality by collaborating and creating special footwear offers that are exclusively available in Foot Locker stores.
Successfully introduced in spring/summer 2009 the two partners take again the adidas Originals Vespa collection for fall/winter as basis for a Foot Locker Exclusive Line bringing to life a cool sneaker pack with clean silhouettes and simple colour combinations.
Launching exclusively in Foot Lockers on September 6th 2009, Foot Locker and adidas Originals present a special edition of Vespa footwear with clean silhouettes and simple colour combinations, perfect for those who like their sneakers in their purest and chicest of forms. The authentic collaboration of adidas Originals and the Italian pop icon scooter brand provides classic designs for both scooter riders and all fans of casual and clean design.

The hero of this stylish gang is the Vespa GS Mid, exclusive only to Foot Locker. Available in striking white or classic black leather mid cut uppers with the iconic 3-stripes in understated tonal stitching; this is destined to become a contemporary classic.
The Vespa GS Mid is completed with the distinctive Vespa badge on the ankle and Vespa repeat sock liner. Making this just the sneaker for those scooter sojourns, or for when you feel like styling it up in the city.
The accompanying low cut Vespa GS is a perfect example of how a clean and simple sneaker can transcend the sum of its parts. Available in streamlined black or white leather or sleek black denim uppers, this trainer is designed for understated greatness. The Vespa badge sitting on the lateral rear of the shoe is an exact copy of the logo that has adorned the world renowned scooters that have rolled off the Vespa production line since 1946, lending an enduring style and sophistication to this enviable collection of chic sneakers.
farm3.static.flickr.com/2610/3966280773_81c82d40a1_o.jpg
Apart from the regular adidas Originals Vespa collection, this special sneaker pack consists of six different styles.
It marks another huge Foot Locker exclusive for sneaker enthusiasts proving that when it comes to leading sneaker originality, Foot Locker continues to bring style aficionados the latest and greatest from the biggest names on the planet.

David, See Ya! - iloveyourtshirt x Play-Doh.
---
---