21 September 2010, writed by David
category: tshirt
IMU Fall Collection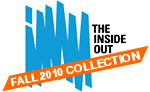 After a widely successful fashion show (with over 600 attendees) at the heart of the University of Michigan campus this past Friday, IMU is officially releasing their 2010 Fall Collection to the masses!
The new line carries not only t-shirts, but also two completely new products including hoodies for both men and women. Each item holds an uplifting message that perpetuates the collection's theme Global Warming: A Change in the Weather.
"Global Warming: A Change in the Weather," is meant to be a statement against the daily negativity, hardship, and struggle society is faced with.
While IMU does hold much concern for the issue of Global Warming and the environment as a whole, this theme is not directly inspired by that.
Rather, IMU is aiming to produce a "global warming" on another front, with good feelings and positive vibes.
IMU's mission of happiness and giving back was translated visually in their show and is noticeably apparent throughout the entire Fall Collection. Messages include: "You Were Meant For This," "Love Never Fails," and "Takes 10 Hands to Score a Basket."
All IMU clothing is available for sale solely on the IMU website. Don't forget to follow IMU with their twitter and facebook.
Some pictures of the fashion show:

David, See Ya! - iloveyourtshirt x Play-Doh.
---
---