18 January 2010, writed by David
category: tshirt
A new tshirt for all the Swiss Style lovers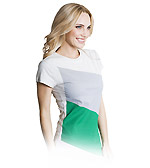 This tshirt is designed by Alexandr Schwartz from Brilliancy.
He just wanted to design something new, distinct and radically different from all these "zombie" t-shirts, something that says: "Less is more".
And here it is, a modern style t-shirt. Well, he consider, people who are really passionate about minimalism and modernism, should love it. This one looks really perfect.
You can buy this tshirt with a 10% discount code: AXB4T
You can follow Alexandr with his twitter and behance.

David, See Ya! - iloveyourtshirt x Play-Doh.
---
---